Roof Cleaning Cape Coral FL
The Safest Roof Cleaning Cape Coral FL
Don't Replace Your Roof, Let Us Clean It!
When you think about cleaning your home (or your business), you're probably thinking about cleaning the inside. If you're especially bright, you'll think about cleaning some of the siding outside. One thing that is almost always missed, however, is the roof. Unless you own a helicopter, you probably don't see it very often and It's easy to forget about things that are hidden from view – especially if the roof is flat. Unfortunately for thousands of people in Florida, forgetting to clean your roof is a huge mistake that can end up hurting you down the line. Especially in areas such as Naples and Fort Myers, algae is a big problem and most don't even know that Roof Cleaning Cape Coral FL is a solution! Once algae is on your roof, it just keeps spreading and spreading until it's too late! Leaving algae, mold, and fungus on your roof is not only unsightly, but extremely dangerous. The integrity of your roof will be compromised. Many people don't know about the affordable solution of Roof Cleaning Cape Coral FL, they think they will have to spend thousands replacing their roof but we want to inform the community there is a better solution! We can restore your roof and keep it clean and healthy for years to come!
Roof Cleaning Cape Coral FL Service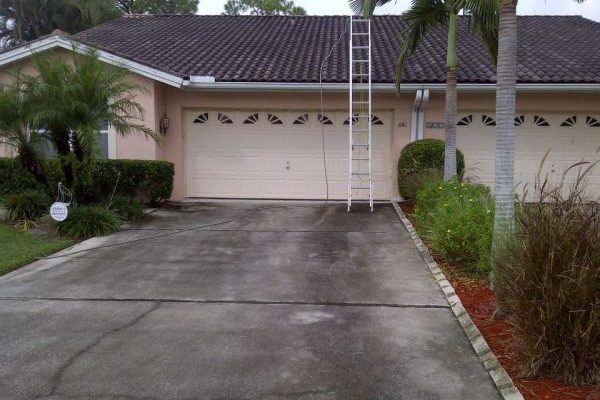 Roof Cleaning Cape Coral FL
Start With A FREE Quote & Consultation
Difficulties of Roof Cleaning Cape Coral FL
Roof Cleaning Cape Coral FL is a difficult task which is why you should trust the professionals. We take care of the following (so you don't have to):
Water Pressure: We utilize soft washing for your roof cleaning, this ensures no damage is dealt to your roof because we rely on powerful cleaning detergents to safely and gently shampoo your roof rather than blasting your roof with brute force.
Detergent: Finding a reliable (and environmentally friendly) detergent isn't easy – we use the best and safest cleaning detergents you can find on the market!
Safety: Since your roof may already be damaged, it may be dangerous. People trying to get up onto your roof using a pressure washer isnt safe for your roof or for the cleaning company. We can safely clean your roof from the ground or by ladder.
Special equipment: Equipment such as safety ladders, harnesses, etc. are necessary to properly clean your roof.
Why Choose Our Roof Cleaning Cape Coral FL Services
Dome Enterprises offers the best Roof Cleaning Cape Coral FL has to offer. There are many things we provide that set us a part from the other roof cleaning companies such as:
Experience: We're licensed and insured to work in all of Southwest Florida and have been providing quality services for over a decade!
Water Transport: Even if there's no water hookup at the job site, we can bring hundreds of gallons of water with us making roof cleaning possible even under any circumstances.
Water Pressure: We know the water pressure "safe zone" for dozens of roof materials. We specialize in soft washing which ensures your roof will not be damaged by high pressure roof cleaning.
Water Temperature: Depending on the roof's material and condition, the water temperature will need to be changed.
Detergent: We use only the best professional-grade detergents and soaps coupled with safe amounts of Sodium Hydrochloride to properly clean your roof.
Safety: We use professional gear while working on your house and take all safety precautions seriously. Trust us, you'll be glad you hired Dome roof cleaning. We have the experience and we'll get the job done right!
Our Guarantee Here at Dome Enterprises, we take our job seriously. We want to make your home or business look the best it's ever looked. If for any reason you are unsatisfied with our service, we guarantee we will make it right!
Benefits Of Our Roof Cleaning Service
Get A Fast & Free Roof Cleaning Quote
We'll Send You A Quote Today!